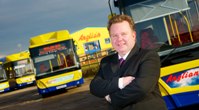 Gas bus operation has indicated the potential for making considerable savings in operating costs – Anglian Bus MD Andew Pursey reveals significant savings in the first months with the new MAN EcoCity buses
An event last week, hosted by MAN Bus & Coach UK, was designed to reveal operator experience and actual costs of operating the MAN EcoCity buses which have been in service with Go-Ahead subsidiary Anglian Bus. MAN's CEO Des Evans lived up to his newly proclaimed 'hands-on' approach with the bus and coach side of the business. He said the three main areas of focus for operators were costs, credit and compliance. He explained: "Comparing the operating cost over a whole life, of say – a million km, shows the cost of the vehicle is very small by comparison. Credit these days is not so easy to come by and compliance issues such as safety and roadworthiness have to be at the top of the agenda. It's our future ambition to make bus and coach operators more profitable."
Sales Manager Paul Gardner was appointed as project manager for developing a CNG-fuelled bus for the UK market. He said: "We selected CNG as it provided a simple and innovative route to Euro 5 and 6 and also fell-in with the trend for customers to seek a one-stop shop. CNG also offers a green technology option against the alternative – very expensive hybrids. CNG is also proven technology – MAN has 4,000 CNG buses operating in Europe and around 8,000 worldwide and they can be produced in low-entry or lowfloor configuration.
"The first showing in the UK was of a left-hand drive model we had been developing with Caetano. It received a very good reaction from show visitors so we decided to go ahead with Caetano as our bodybuilding partner – largely because it has 15 years' experience of building CNG buses and has extensive experience in bodying MAN vehicles.
"The R&D was finished in early 2011 and we started building two right-hand drive demonstrators in Q2. We organised a full programme for each vehicle with all potential customers taking a vehicle for a six-week period. Each one was equipped with full telematics so everything could be analysed in detail. Between them they did 500 days service and worked hard. In general they showed 25-30% cost savings on fuel used. In real terms this equates to annual savings of £1.3 – £1.5m for 10 buses run over 10 years.
"We are also able to provide operators with a full 10-year projection for the EcoCity on specific journeys or routes for direct comparison to their existing diesel buses."
Gas Bus Alliance (supplier of gas, fuelling equipment) MD Phil Lowndes said MAN's 16-year experience of building gas buses had shown the technology was reliable. The Gas Bus Alliance was formed three and a half years ago as a means to bring the advantages of CNG operation to market. The vehicles were fully warranted and used proven technology in purpose-built, dedicated engines. Another advantage was the very low CO2 production if the vehicles were operated on gas from a bio-methane source – which was getting close to being carbonnegative. It had also met the Low Carbon Emission Bus requirements making it eligible for Green Bus Funding.
He said: "Our secure pricing of the fuel means it is not subject to the same influences as petrol or diesel. This means it's easier for operators to predict margins on tenders." Operators can contract for fuel payments on a fixed cost basis over a period of years or can opt for 'tracker' payments at a set discounted unit rate which rises or falls in line with the market.
Mr Lowndes pointed out there was nothing 'low-carbon' about lithium production for batteries in hybrids or electric buses, there was no diesel used and no AdBlue required either – it was just clean and simple technology which did not need to be imported. All bus fleets could potentially be supplied from renewable sources. There were eight production plants in the UK currently injecting biomethane into the national Grid which was sufficient to power a significant number of buses. Another four are due to come on-stream this year – each producing 3,000 cubic metres of bio-methane per hour.
Gas Bus Alliance, he maintained, would not only supply the fuel but could organise custom-built on-site fuelling facilities to meet the requirements of all operations. Fuel contracts could be taken out over five or 10 years with the cost of the installation built into the unit price. Ten-year deals secured a cheaper gas rate and fixed rate contracts are available for three-year terms – although these could be extended.
Anglian Bus MD Andrew Pursey gave a brief overview of the business – which began in 1981 as Anglian Coaches. Run by his parents, it operated five Ford coaches based in Lodden. Andrew joined in 1988 and in the mid-late 90s he looked into contract services and began to win tenders. There was a sudden requirement for six new buses – filled by three Plaxton Beavers and three Super Pointer Darts. The sudden expansion determined Lodden was no longer large enough to accommodate the fleet and so new premises at Beccles were acquired. Andrew continued steadily building the fleet as more contracts were won and eventually began operating the first commercial service in 2003 with four Optare Solos linking Halesworth with Norwich – it now needs much bigger buses to handle the passenger capacity. When the fleet size reached over 70 Andrew deemed it was time to drop the coaches and they all went during 2004.
In 2012, the company received a good offer from Go-Ahead Group, which it accepted. Andrew's parents retired and he stayed on as MD. The current fleet had some 25 Beavers, but they were being replaced by bigger buses and suddenly the days of operating buses capable of 20mpg disappeared. Andrew turned to biofuels under the CIVITAS 2 initiative which Norwich had partaken in from 2002-2009. He experimented with fuel blends from 5%, 10%, 50% and even 100% in a bid to reduce NOx and particulates. Norwich also introduced its own LEZ from 2009 and so Anglian Bus tried an Optare Solo with a diesel/biogas dual fuel conversion from Hardstaff. He said it ran well but had a short range and was unreliable in winter as high electrical demand from heaters and blowers meant a constant 26 volt supply to the ECU could not be maintained.
He said: "I looked with great interest upon the LHD demonstrator when it first appeared and entered into a demonstration programme agreement. Running a short route between Beccles and Lowestoft it proved Okay. We tried a longer Halesworth to Norwich route and it was also Okay – so we were getting confident and working up to getting 300km per day.
"Feedback from the drivers and the passengers has been extremely positive but we were now in a new world of Kg/Km – how did it compare to conventional diesel? As we had no gas connection on site the cost for infrastructure to cover two or three buses would just not have been viable – we would need at least eight.
"Compared to the cost of running new Euro 5 buses the savings worked out at £4,855 per vehicle but we couldn't just buy eight gas buses unless they were replacing existing buses. Against them were saving £39.21 per day with an annual saving of £11,967.89. With depreciation calculated in the figures still stacked up and Go-Ahead said to go for it. There was only £20m available in GBF3 so we bid for 13 low-entry gas buses and were awarded funding for all of them. We placed an order with MAN for November 2012. The first six entered service on the 146 Lowestoft to Norwich service. The second tranch of vehicles will be ready two weeks ahead of schedule. There have been a couple of minor issues but in four months operation they have covered 238,000km and are returning 3kg/km. This is a 9% improvement over what we had from the demonstrators. We are also noticing the fuel consumption is reducing further as the engines begin to bed in."