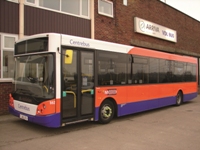 Arriva Centrebus joint venture comes to an end
Arriva's joint venture partners in Centrebus (Holdings) have sold their stake, making Arriva the sole operator of the business.
Centrebus (Holdings) operates 152 vehicles and employs 360 people in West Yorkshire and Hinckley. Operations in West Yorkshire will be led by Business Director Martijn Gilbert and the Hinckley operation will report once again into Arriva's Midlands region.
Arriva has confirmed it is business as usual for customers and employees, with no planned changes to fares, service levels or day-to-day operations.
Centrebus (Holdings), the partnership between Arriva and Centrebus, was created in May 2008 to purchase K-Line Travel, Huddersfield and Stagecoach Yorkshire's Huddersfield operation. The K-Line name was retained and Stagecoach services operated under the Huddersfield Bus Company name. The Hinckley depot of Arriva Midlands was added in August 2008.
In January 2010 Centrebus Holdings took over contracted services in the Calderdale area serving Halifax, Ripponden and Sowerby Bridge previously operated by First West Yorkshire and a new depot was opened in Elland. Three airport services to Leeds Bradford Airport were also added. Again, they had previously been operated by First, which continued to compete on one of them for a time. More Metro contract wins saw considerable expansion in Bradford and Leeds and another new depot in Kirkstall Road, Leeds. Three Halifax Joint Committee routes were taken over in Halifax in October 2010.
Arriva has no involvement in Centrebus Ltd, with operations in Leicestershire, Northamptonshire, Luton, Bedfordshire and Hertfordshire, or in the High Peak subsidiary rebranded from Bowers after being merged with the Dove Holes depot of Trent Barton. Centrebus was developed from what was originally Anstey Buslines.