Plans for A14 expansion published
News stories are free to read.
Click here
for full access to all the features, articles and archive from only £8.99.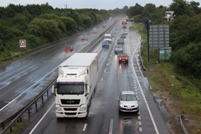 The Highways Agency has published plans for a major road scheme to upgrade the A14 between Cambridge and Huntingdon.
The £1.5bn scheme includes a new 12-mile bypass around Huntingdon.Work is due to get underway in late 2016, with completion expected in 2019/20.
A public consultation began on Monday, September 9, running to Sunday, October 13, with public exhibitions planned in the Cambridge and Huntingdon area from Tuesday, September 17.
During the consultation period the public can view the chosen work and other options which were considered, including those developed for the DfT's A14 study in 2011/12. A more detailed timetable for delivering the scheme will be outlined.
Stephen Hammond, Roads Minister, said: "This announcement meets the commitment I made in January to present a more detailed solution for the A14 and a clearer timetable for delivering these crucial improvements.
"We need a long-term resolution, which will tackle the congestion and journey time reliability issues, and subject to the outcome of the consultation, we believe this is it. It's the best option for people living locally, and for the businesses which see it as a gateway to international markets via the ports on the East coast. It will provide better journeys for long-distance and local traffic, putting the right vehicles on the right roads."
The proposed improvement scheme includes:
A new Huntingdon Southern Bypass, with junctions at Ellington, Brampton, Godmanchester, and on the existing A14 at Swavesey. Proposals under consideration include this section of bypass being tolled;
The A14 through Huntingdon would be de-trunked. The A14 viaduct over the mainline railway in Huntingdon would be demolished, enabling the existing A14 to be tied into local roads;
The A14 will be widened from Swavesey to Milton (the section between Girton Interchange and Histon will be widened earlier as part of a separate improvement scheme, due to start in early 2014);
A new single carriageway access road will be built alongside the improved A14 between Fen Drayton and Girton; n Girton and Milton junctions will be upgraded to improve traffic flow and to add more capacity;
Two new junctions will be constructed at Bar Hill and Swavesey; and
The A1 will be widened between Brampton and Alconbury
Full information is available at www.highways.gov.uk/A14CambridgetoHuntingdon