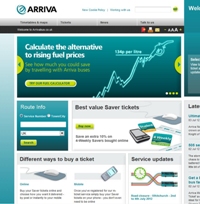 Arriva Bus UK's Fuel Calculator campaign has reached the final of this year's DADIs – The Drum Awards for the Digital Industries.
The campaign, which compares the cost of travelling by car with bus journeys and highlights savings wherever possible has been shortlisted in the Travel/Leisure/ Sports Website or Campaign category.
The Fuel Calculator invites people to calculate how much they could save by travelling with Arriva by entering their commute details at www.arrivabus.co.uk/fuel.
It has shown the average person clocks up 497 miles every four weeks. But by switching from car to bus travel, individuals can save an average of over £76 per month.
The campaign, which ran from March 1 to 31 this year, received more than 35,000 page views, 980 hours of engagement and nearly 4,000 online submissions through email, mobile, Facebook and display marketing.
Head of marketing for Arriva UK Bus Cora Robinson said: "We are delighted our Fuel Calculator campaign has been recognised by the judges. We have beaten off stiff competition to make it through to this year's final and are looking forward to the presentation night in November.
"Fuel Calculator is an extremely successful campaign, which has proved popular with people of all ages, so much so, we have kept it on the homepage of our website for people to access and share with their friends, families and colleagues. More than 7,000 people have so far used our calculator and, with 58% of them finding the bus cheaper than the car, this has identified more than £300,000 savings to date."
Arriva Bus UK is shortlisted alongside six other companies, including Visit Scotland and Auto Trader. The winner will be announced at an event at the Emirates Stadium in London on November 8.