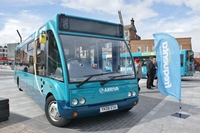 Arriva North East has launched its Frequenta brand in Stockton on the 7/7a service between Stockton, Eaglescliffe and Yarm.
To officially launch the service, magician Graeme Shaw provided a street magic show in Stockton High Street, followed by a performance at Mill Lane Primary School. Arriva also gave away Free bus tickets and goodies.
Nick Knox, Area Managing Director for Arriva North East, said: "We're delighted to be launching the first Frequenta service in Stockton.
"We're constantly working towards improving the journey experience for our customers and we hope that more people will see the benefits of bus travel and jump on board. We're confident Frequenta is really going to help us promote the high frequency network of routes that run throughout the town and beyond."