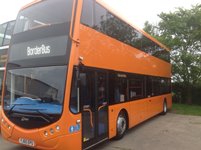 BorderBus has begun trialling Optare's new MetroDecker from its Beccles base on Moor Business Park. The trial commenced over the weekend, with the 11.1-metre orange demonstrator vehicle being used over a fortnight period for evaluation.
BorderBus currently operates seven Volvo B7 Plaxton Presidents on commercial school routes, seven Enviro200's on a commercial bus route between Southwold and Norwich (the 146 service), and one Enviro200 on the subsidised 521 service between Halesworth and Aldeburgh.
BorderBus' Managing Director, Andrew Pursey, told CBW why the MetroDecker was chosen, and why a new vehicle was needed
He explained: "Over the last 3 years the Presidents have been perfect for the school routes, having been converted to single door and up-seated to 80 by EnsignBus, and the Enviros have performed extremely well on our service work."
"However, the 146 route has seen phenomenal passenger growth, with passengers up by 79% and on-bus revenue up by 97% (in May 2016 compared to May 2015) since the route's inception on July 24, 2014. On certain journeys the single-deckers are proving to be too small, particularly between 0930hrs and 1030hrs when the concession passengers start to travel. We have, on occasion used the Volvo Presidents on 146, but they are more suited to school work.
"We are in the process of purchasing a number of Volvo Gemini's, again from EnsignBus, which will enable us to use double-deck service buses on school work rather than double-deck school buses on service work.
"The trial of the Optare Metrodecker will allow us to evaluate its suitability for the 146 route, gaining feedback from passengers and drivers, and hopefully its reliability, build quality and fuel economy will allow us to build a business case which justifies the purchase of a new double-decker rather than further used double-deckers."