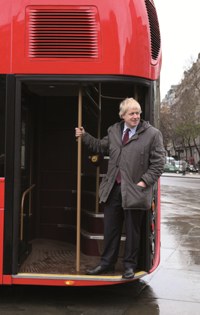 Eight new vehicles to enter service on Arriva's route 38 in February 2012
Nearly a week after the last bendy bus was withdrawn from service, the New Bus for London (NBfL) hit the streets of London, attracting a surge of media frenzy at Trafalgar Square last Friday.
Driven by Transport for London (TfL) commissioner Peter Hendy from City Hall, the vehicle was shown off by London Mayor Boris Johnson as a pinnacle of "cutting edge British technology" and it has taken under two years to move from the drawing board stage to a fully functioning prototype, as built by Wrightbus in Ballymena.
Alongside seven more vehicles due to arrive next year, the debut vehicle will enter passenger service on the route 38 between Victoria and Hackney operated by Arriva on February 20. The mayor quipped it was a coincidence this route runs near where he lives.
Over the next few weeks the bus will undergo testing for certification purposes and will be put through its paces by the Arriva staff, who will be responsible for driving and crewing them.
The buses will be trialled in passenger service and the performance and passenger feedback will be evaluated, said TfL. If the trial is deemed successful, it is anticipated "hundreds" of the new buses could operate across London in the coming years.
A team of 25 engineers and a 40-strong production team at Wrightbus have worked on the first prototypes of the hybrid-powered bus and Wrightbus' development engineering manager, David Barnett, told CBW the standard TfL emissions test carried out on the 159 route showed performance of 11.6 miles to the gallon. At Millbrook Proving Ground, the engineering test vehicle emitted 640 grams per kilometre (g/km) of carbon dioxide and 3.96 g/km of oxides of nitrogen (NOx) – less than half of the carbon dioxide emitted by a current diesel bus (1295g/km) and under half of the NOx emitted by a current diesel bus (9.3g/km). Fuel economy also proved better than twice that of a standard diesel bus.
Showing off the "sinous curves" of his brainchild, Johnson said: "Cutting edge British technology sends a message to the world that we can design and build beautiful buses here in the UK. The magic thing about this bus is the domes of the design reminiscent of the old taxi or architecture – that's the thing which says London."
Setting it apart from bendy buses "which are dangerous for cyclists", Boris asked: "Do Londoners want a bus which is cleaner and greener and built in Britain or do they want to go back to a German-built bus?"
"Christmas has arrived early in the form of this revolutionary new bus whose gleaming coat of red paint and sinuous curves will brighten the day of all who see it humming along our great city's streets," he continued.
"It is the latest, greatest masterpiece of British engineering and design, and I am certain it will become a much-loved and iconic vehicle akin to the legendary Routemaster from which it draws so much inspiration."
David Barnett told CBW: "It's a great day for us and we are very proud and delighted with this product. I think it's a huge step forward for public transport. A lot of hard work has gone into what we believe will be an icon in London and also bus design globally.
"I think this has the potential of revolutionising bus design – maybe not in this guise. The technology is class-leading and the use of structural composites to bring the weight down of the NBfL is not being used elsewhere. We see this as an opportunity to move bus technology forward. This shows real vision from our political leaders, with two UK leading companies working together, and the bus built in the UK .This is a success story."
Commenting on testing the NBfL before it enters service next year, Bob Scowen, managing director for Arriva London said: "Everyone involved with the running of route 38 is looking forward to testing the new bus and putting it through its paces."
Meanwhile Peter Hendy said: "It is a phenomenal achievement to get a bus of this calibre from the drawing board to the streets of London in just two years and my congratulations goes to all who have worked tirelessly to make this happen.
"This bus has been designed from the wheels up with the complex needs of Londoners in mind; it truly is a 21st century bus. It's stylish and comfortable, and will ensure a smooth ride for all on board as well as an eye catching spectacle for those who will see it glide through the streets of London."
Wrightbus was awarded the contract for engineering design and to build the NBfL in January 2010. London-based designers Heatherwick Studio provided the exterior and interior design. Core design features include three entrances and two staircases aimed at delivering speedy boarding, a new seat and moquette design and a platform at the rear, in common with the Routemaster, which will be open when there is a conductor on board allowing passengers to hop on and off at bus stops.
Thomas Heatherwick, of Heatherwick Studio, said: "It has been 50 years since a bus was last designed and commissioned specifically for London. This has been a once-in-a-lifetime opportunity for a team to look again at the opportunities for a new open-platform bus."