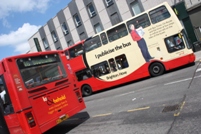 Brighton & Hove and the provincial operations of Crawley-based Metrobus are to merge – it has been officially confirmed. The TfL work run by Metrobus is set to come under the management of Go-Ahead London.
"We will see one or two new things coming out from both companies to improve customer services," explained Martin Harris, the former Go North East Commercial Director who took over as Brighton & Hove MD from Roger French three months ago.
"While we will be making some efficiencies, there will be a very limited reduction in jobs and we will do everything to try and find alternative roles for those affected."
Mr Harris has also revealed the company is set to break with tradition by introducing advertising on the outside of the firm's fleet later this year. For many years Brighton & Hove has famously carried only images of customers and personalities promoting its services.
Proposals are also being developed to open up Brighton & Hove's key smartcard system to other operators.
"We are in discussions with the council and they are actively exploring with other bus services such as Big Lemon and Compass Travel how smartcard ticketing can be extended to other services," said Mr Harris.
"I think there is a desire for all the parties to see a solution as soon as possible but it is impossible to put a specific time frame because there are issues around funding."