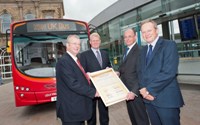 This latest deal between the operator and the transport authority aims to build on previous partnerships
National Express West Midlands (NXWM) and Centro have signed a two-year £81m partnership agreement, dubbed Partnership Plus, which aims build on the improvements delivered by previous partnerships.
The deal, which sees £65m of investment by NXWM and £16m by Centro, involves 300 new buses including 15 hybrids and 10 new gold bus corridors benefitting from new buses, real-time information and increased bus priority. In addition, 350 new bus shelters are to be built as well as a new bus station at Merry Hill and refurbishments to Dudley bus station alongside new infrastructure, shelters and information provision for Wolverhampton and Coventry city centres. The deal also sees the introduction of the Swift smartcard on to the NXWM network, allowing all ticket deals to be loaded on to the card. NXWM's successful on-bus cleaning scheme will also be expanded upon while audio visual equipment informing passengers of their next stop is set to be introduced. Partnership Plus also aims to deliver ambitious new programs including Sprint, a European-style rapid transport system.
The previous partnership between NXWM and Centro, Transforming Bus Travel 2, reportedly achieved 100% of its objectives including the introduction of a smartphone app, delivering the region's first hybrid buses and increasing the number of ticket inspectors on the bus network.
National Express Chief Executive Dean Finch, Peter Coates, Managing Director of National Express West Midlands, Centro Chairman Cllr John McNicholas and Centro Chief Executive Geoff Inskip signed the agreement in a public ceremony at Wolverhampton bus station.
Dean Finch said: "Partnership Plus will build on the improvements we have already made in the West Midlands including investment in new vehicles and more on-bus cleaners as well as promising a limit to future fare rises."
"This partnership is great news for bus passengers in the West Midlands and I believe it will encourage more people to save money, time and stress by leaving the car at home and using the bus."