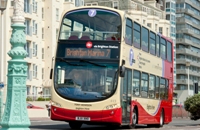 Brighton & Hove order 22 new Volvos Brighton & Hove Bus and Coach Company will acquire 22 new Volvo buses over the coming months, including two hybrids.
Earlier this year the company upgraded route 6 and 7 to be operated by Wright-bodied double deck Volvo B9TLs, and following this, an order has been placed for similar buses to upgrade the firm's route 1 next spring.
Two ex-demonstrator B5LH hybrid buses are also due to be delivered by the end of this year.
The company tried one on loan recently and both vehicles have now been made available to B&H after their demonstration duties are completed.
Roger French, managing director of Brighton & Hove, explained: "We are funding these ourselves thanks to a deal arranged by Go-Ahead on our behalf with Volvo."
"The hybrids alongside 20 more Volvo double deckers will make a big impact when they're in service during 2012. With 14 more ex-London Mercedes-Benz Citaro bendy buses also arriving soon, it will enable us to withdraw a significant number of older buses in the fleet," he added.