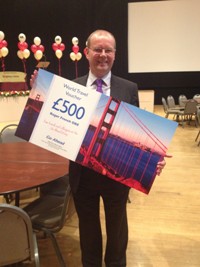 Colleagues from across the bus industry gathered on the South Coast on Thursday to say a fond farewell to Brighton & Hove Managing Director, Roger French, on his retirement.
Roger has been at the helm of Brighton's buses for 30 years, overseeing huge passenger growth, trailblazing marketing and promotional activities, and building strong relationships with organisations across the city and beyond to put bus services at the top of business and political agendas. In a packed town hall of over 200 guests, key speakers, including Norman Baker MP and David Brown, Go-Ahead Group Chief Executive, gave their tributes to Roger's achievements, and a standing ovation followed a moving farewell speech by Roger himself.
For his final two weeks, colleagues made a DVD showcasing Roger's time at Brighton & Hove, as well as naming a bus after him (the front of which now adorns his living room!). Roger was also presented with a world travel voucher from colleagues at the Go-Ahead Group; he has plans to travel around the globe in his well-earned retirement.
The following day, Roger was presented with more gifts, including a specially-printed bus destination blind featuring all the locations he has worked at and a 1940s edition of Bradshaw's Guide, made famous thanks to Michael Portillo's TV series on the BBC.