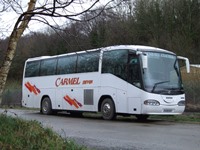 Operator's appeal against O-licence revocation fails
Devon-based coach firm, Carmel Coaches, will stop trading on November 14 after losing an appeal to keep its O-licence. The company has been operating in Exeter since the 1970s.
The owners were initially told they must stop operating from July 31 but appealed and were allowed to continue operating ahead of their appeal.
The company appealed to the Transport Tribunal after losing its license in June due to safety failures and poor record-keeping. Among the issues raised was that a brake defect had been reported eight times before something was done and a jammed emergency exit which had not been fixed when it was flagged up. In addition, the firm's MOT failure rate was double the 18% national average.
One of the firm's vehicles was involved in a coach crash at Looe in Cornwall in May where two people died, although no defects were found. The Traffic Commissioner, Sarah Bell, said the crash did not have any impact on her decision.
At the hearing, company Founder and Director Tony Hazell admitted the firm had expanded too fast but said maintenance had improved.
In a statement Tony said: "Although this marks the end of a family business that has served the Exeter and West Devon area for 30 years, we have to accept the decision made despite its severity.
"We can confirm that arrangements are being made for all future contracts and bookings to be honoured and our business at Bristol is unaffected and continues to trade as normal.
"We would like to thank our long-serving hard working staff and our loyal customers for their support particularly during this past year which was marred by the tragic and devastating accident on May 13.
"We are working hard to ensure that our staff find continued employment and job losses will be kept to a minimum."