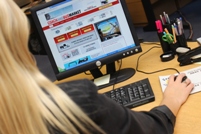 Free introductory offer means for a limited time sellers can upload unlimited vehicle adverts at no charge
A revolutionary new online marketplace for coaches, buses and minibuses has been launched by Coach and Bus Week Ltd.
coachandbusmarket.com is a new online service which gives you unrivalled control over your advertising, never seen before in our industry at unmatched prices. You can advertise used vehicles, products and services quickly and at a low cost.
The website allows buyers to easily browse a huge range of vehicles, products and services, all in the same place at any hour of the day – there's no need to wait a week to find out what's for sale.
Sellers can take advantage of the first online market in the industry updated by its own users. The convenience of uploading adverts at any time and allowing your vehicle to be up for sale the moment it's ready is something not found anywhere else without a percentage of the sale price being taken as a cut. On coachandbusmarket.com a variety of one time cost packages are available, allowing adverts to remain online between one and three weeks, with variable coverage in the magazine.
However, at this moment sellers need not worry about cost at all, as for a limited time, uploading ads to the website is free.
Coach and Bus Week Chairman Jonathan Taylor said: "I have been telling everyone how determined I am to give the site the launch it deserves, so why not let it be used free of charge for vehicle sales at the beginning to let everyone quickly see the benefits.
"From now until November 21, or until 1,000 vehicles have been loaded on to the site, you can place as many vehicles as you like on the website for free."
Coachandbusmarket.com also offers unrivalled control of advertising. Sellers have access to a dashboard allowing them to edit adverts and mark vehicles as sold, or even 'pause' an ad in progress. This means if you have some interest in a vehicle for sale, you can pause the advert online, maintaining the time left on the advert and allowing you to reactivate it if a sale isn't made. The dashboard also allows you to see in real time the amount of views your advert is getting.
The site is live and the launch offer is available now, but even once the offer has expired it is possible to upload vehicle adverts to the website for an unmatched price of £9.98. This is possible if you take advantage of a deal granting Coach and Bus Week subscribers an enormous 30% discount, potentially saving money if you sell several vehicles per year.
Coachandbusmarket.com can be accessed via your computer, tablet or smart phone so take a look and start benefiting from how we've made buying and selling used vehicles, products and services easier than ever.
Coach and Bus Market is live now. Visit it at coachandbusmarket.com or call us on 01733 293240 for more information. Take a look at our user's guide in issue 1060.
We will also be promoting the website at this year's Euro Bus Expo on November 6-8 at the NEC in Birmingham. If you're at the show, come visit us at stand T 165 and we'll be happy to talk you through the new website.