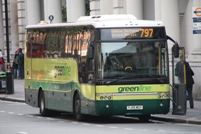 Expansion of scheduled coach services on trunk routes are needed over the next 25 years if the country is to meet the increasing demand for travel and population growth.
This is one of the key findings contained in a new report from the Chartered Institute of Logistics and Transport in the UK (CILT), entitled Vision 2035. The report endeavours to forecast the evolution of the UK transport scene over the next quarter of a century, to understand the impacts wider social progress will have on the roles and demands placed on freight and passenger transport.
Produced by the CILT's Public Policies Committee under the guidance of project leader, Michael Woods, it identifies the key policy instruments and investments required in order for transport facilities and operations to serve society as effectively as possible.
On the roads, the report argues there is strong potential for scheduled coach services to greatly increase their contribution to inter-urban mobility and this market could be really stimulated by 2035 if measures are introduced to reduce congestion, and to increase capacity on motorways and trunk routes. These include an expansion of hard-shoulder running, introducing many more high occupancy lanes and dedicated bus and coach lanes on busy trunk routes, as have already proved successful in cities such as Brighton, London and between Bradford and Leeds.
Other key conclusions from the report include:
The absolute necessity for increased public investment in transport infrastructure.

The prospects for new innovative high-tech developments designed to speed delivery, reduce carbon emissions and contain wasteful congestion.

The increased development of collaborative and partnership projects designed to enhance the efficiency of both freight and passenger operations.
Institute president, Peter Hendy CBE FCILT said: "The importance of efficient and economic transport operations in the way we live and for our industry in the future cannot be over-estimated. Effective transport will form a fundamental ingredient in our needs, welfare and prosperity, as our population grows and our economy develops.
"Vision 2035 has used the professional expertise of CILT's membership of transport professionals to identify some of the options, challenges and prospects we face in planning our transport solutions for the future.
Hendy concluded: "CILT is convinced the nation needs an informed and constructive debate Vision 2035 represents our initial contribution to that process."
Download Vision 2035 from www.ciltuk.org.uk