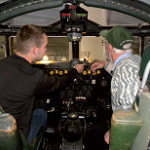 14 aircraft available for close viewing at September event
The Royal Air Force Museum at Cosford will be opening up its doors to visitors for a special evening event taking place on Saturday September 17.
During 'Open Cockpits Evening', a selection of historic aircraft and cockpits will be available for close viewing for a limited number of visitors, allowing rare inside access to some of the world's most historic aircraft.
'Open Cockpits' include; the MH-53 Combat Search and Rescue helicopter, as used by the United States Air Force; the Jaguar ACT Demonstrator, a ground attack aircraft modified to demonstrate fly-by-wire/active control technology (ACT) and a Gnat T1 – previously part of the world famous RAF Red Arrows display team.
Major highlights for aviation enthusiasts include the opportunity to see inside the famous TSR2, a twin-engined tactical strike reconnaissance prototype, and to examine how pilots operated the unique Meteor F8 Prone Position, whilst flying lying down.
Other aircraft accessible to the public on the evening will include the York, Hastings and Twin Pioneer.
Museum events executive, Nina Mitchell said: "After the success of the first 'Open Cockpits Evening' held in May this year, we hope to make this an annual event.
"Access to the inside of these aircraft is something we are not able to allow all the time. By opening them up to a limited number of visitors for this event, we are able to offer them quality time inside the aircraft alongside our team of volunteers who make themselves available to answer any questions."
This evening event will run from 1800hrs to 2030hrs and numbers onto the museum site are limited to 300 people. Admission is by advance ticket only, costing £10.00 per person. Parking charges are included in the ticket price. For further information call 01902 376200 or visit www.rafmuseum.org