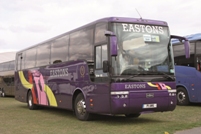 The launch of the new site coincides with the release of the firm's latest brochure
Renowned Norfolk-based Eastons Holidays launched its brandnew online booking site on Friday (September 7).
The new site, designed by Norwich-based web design company Media Jelly, is powered by Roeville's WebRes system. It showcases all of the firm's holidays, excursions and live concert trips. The company is also developing its social media presence with Facebook and Twitter integration.
A W Easton's Coaches was founded in 1953 by Alfred Easton. Derek and Robert Easton joined the business at the age of 21 and following the death of Alfred, became joint directors of the family company. Claire Easton, Derek's daughter joined the business having completed a BA in Business Management.
Claire told CBW: "Our old website was very old fashioned. I have a friend who designs websites so they put together a concept for me and we got a few quotes from web design companies, so I decided to splurge! We sent it across to Roeville, who provide our booking system and here we are really. I'm 99% happy with the new website, there's been a few teething problems, but it looks a damn sight better than it did. We launched the website to coincide with our new brochure and we're increasing our use of Facebook and Twitter to get into the younger market."
A spokespesman for Roeville told CBW: "Roeville is the proud supplier of reservation software to Eastons Coaches – including its t28 coach tour reservation system and now its new WebRes online booking site. Working with t28 and WebRes, Eastons can ensure that all of its latest tours are available to book online 24 hours a day, seven days a week. t28 and WebRes are now crucial to Eastons' operating procedures, with reporting facilities which allow the company to more closely monitor how the business is running, as well as being able to analyse its customer base and ensure it can deliver a quality service."
The new site can be viewed at www.eastonsholidays.co.uk