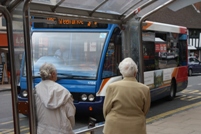 Devon County Council is paying costs of £1m for people from outside the county using free bus passes in the tourism season.
A survey found during September, 21% of people using the free off-peak travel scheme for over 60s were not from the Devon local authority area.
The figure included 2% from Torbay and 1% from Plymouth, meaning 18% were residents from beyond the two neighbouring authorities.
The council wants the Government to help fund the £1m it costs for tourists using the concessionary bus passes. It currently receives £7m a year from the Government to run the scheme, which costs £12m in total.
Cllr Stuart Hughes, Devon CC cabinet member for transport, said: "The concessionary bus pass funding certainly doesn't take into account visitor numbers from other areas.
"We welcome visitors and support the principles of enabling older and disabled people to travel to Devon by bus, because tourism and visitor spending is an essential part of Devon's economy.
"But the findings of the new survey make it clear how much more demand we face in Devon, and the extra costs it adds to the scheme."
The proportion of non-residents benefiting from free bus travel has risen from 9% in four years. It is estimated, on average, nonresidents account for 10% of concessionary passengers over the year.