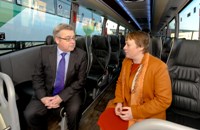 Shadow transport secretary Maria Eagle recently visited Birmingham's £15m coach station.
Eagle caught the 37 bus route, with Peter Coates, MD of National Express Bus, from Corporation Street to Birmingham Coach Station – a journey which now costs just £1 as a result of the introduction of the new city centre hop.
She was given a tour of the station by Andrew Cleaves, MD of National Express Coach, and also saw and operated the new state of the art wheelchair lift fitted to 400 coaches across the National Express network.
The Minister also explored one of National Express West Midlands new greener hybrids buses which boast a distinctive green leaf livery.
The new hybrid buses are a £5.2m investment into the future of low carbon and sustainable transport in the West Midlands, by National Express West Midlands, Centro and Department for Transport Green Bus Fund.
Maria Eagle said: "It was great to come to Birmingham Coach Station, the home of National Express, and see the first of Birmingham's transport gateways to be completed. The station gives a great first impression of the second city and the West Midlands region as well as providing national connectivity to local residents.
"I was also pleased to travel on a National Express West Midlands bus to see first hand the service which is being provided to passengers in Birmingham."
Andrew Cleaves said: "We really enjoyed hosting Maria at Birmingham Coach Station, the first of Birmingham's transport gateways to be delivered. The £15m site is a major hub of the National Express coach network, providing connections to around 1000 destinations across Britain and into Europe. "Maria also toured our new, fully accessible coaches for passengers in wheelchairs. Technology such as this allows us to deliver the highest standard of service to more and more coach customers across the country." Peter Coates said: "Maria saw at first hand the service we provide across the West Midlands and made the kind of journey which now costs just a pound in Birmingham. " "Maria also got to see the new greener hybrid buses. The hybrids will save 30% of emissions made by a regular bus. The vehicles will also have the latest audio/visual technology to help those with hearing and sight conditions to use our services."