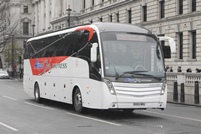 Airport Bus Express enters the express coach market serving the growing international airport
Another operator has joined National Express, Terravision and ComfortDelGro competing for passengers between central London and Stansted Airport.
Bishop's Stortford-based Airport Bus Express has a fleet of new 12 Scanias with 48-seat Caetano CT650 Touring bodywork that is essentially the same as that branded as Levante for National Express. Toilets, CCTV, WiFi and USB phone chargers are all included in the saloon specification and booster seats are available for children. Routes A20/A21 link the airport with Victoria Station direct or via Stratford International and London Bridge.
Airport Bus Express Ltd incorporated in October 2014 operates from the Stansted Distribution Centre. Egidio Zoncada and Franco Repossi are listed by DVSA as directors. The Airport Bus Express brand is already serving 14 Italian airports and is the creation of Italian travel company, Autostradale which was founded in 1924. On its website it says that it's offering "a wide range of services to make their customers' travel easier and improve the quality of the environment we live in: a dense widespread network of services, a regularly upgraded fleet of coaches, a large number of ticket points, convenient price plans for students and commuters, links between cities and airports – key hubs of Italian transport – and organised sightseeing tours."