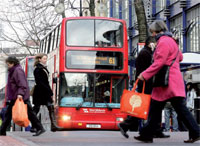 UK Bus division should see margins return to above the industry average
National Express Group PLC (NX) has released a pre-close trading update for the year ending December 31, 2011, with revenue and profit growth in 2011 expected in every one of its divisions. Trading across the group remains strong and full year profit is expected to be in line with the Board's previous expectations.
2011 should see NX's UK Bus margins restored to above industry average levels. Growth in commercial passenger revenue is expected to be 4%. Commercial passenger numbers have recently returned to growth in the West Midlands. Over a 12 month period, NX will have introduced around 250 new buses, replacing 15% of its fleet. NX has also invested in on-bus technology, smartcard ticketing and targeted marketing.
Revenue growth in the core NX coach network is expected to exceed 5% in 2011, with airport, long-haul and London commuter services performing particularly well. New services have helped to achieve this, such as new airport routes linking Leeds, Manchester and Liverpool airports, and new Gatwick Airport routes. Initial sales of senior citizen coach concession discount cards are progressing well, with over 35,000 cards already sold as part of a plan to mitigate the impact of the removal by the UK government of the half-price concession from November 1, 2011.
Transport revenue growth for the group in Spain is expected to be 5% in 2011. Growth in the intercity division "continues to reflect the excellent competitive position of coach travel in the current economic environment." In the urban division, where the majority of business is under long-term fixed contract to city councils, NX has seen a continuation of strong service demand.
Significantly, the North American school bus business is expected to broadly double the 2009 operating profit level this year. Revenue growth for the full year is expected to be 8%, following a successful start to the new school year and a significant increase in charter revenues during the year. Budgetary constraints on school boards continue to drive interest in conversion to outsourced bus operations. The previously announced acquisition of Petermann Partners Inc. is progressing through regulatory clearance, with an expected completion date in late January 2012. NX says it continues to selectively explore new opportunities within its target markets.
Rail division revenues are expected to grow by 6% in 2011.
Dean Finch, group chief executive, said: "National Express is finishing 2011 in excellent shape. We are growing revenue and profit in all five of our divisions. We continue to invest in new fleet and offer exceptional value to our customers, enhancing the quality of our services at prices our passengers can afford.
"As recent passenger growth has shown, our customers value our competitive pricing during this period of economic uncertainty. This strong foundation, coupled with a clear cost focus and the operational flexibility of our business, leaves us well positioned to pursue new opportunities to deliver value to shareholders in the future."
NX will announce its results for the year ending December 31, 2011 on March 1.