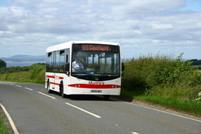 Scottish Borders Council (SBC) has made emergency route cover arrangements after Munro's of Jedburgh ceased trading.
The company confirmed the move, effective from 2245hrs on July 3, via its website stating it would no longer be able to operate any of its scheduled services. The firm also expressed its thanks to all its "loyal customers" over the years.
SBC said it had secured cover to ensure 'essential services' could continue. A number of the routes were due to change hands later this summer following a tendering process (CBW1074). The remaining services will continue to run until a permanent contract can be agreed.
In a statement, the Director of Munro's of Jedburgh, Bruce Campbell, said: "With deep regret I must announce the closure of Munro's of Jedburgh Ltd.
"Substantial losses to Perryman Buses of Berwick upon Tweed during a recent round of tenders with SBC has left us in a trading position which cannot support the business.
"During very difficult circumstances I owe our employees a very deep debt of gratitude; they have supported us greatly when many would have walked. Within this extreme economic climate, my concerns go to the many local businesses who will suffer due to our demise.
"Lastly, severe cash flow problems over the last few years has led to a massive drop in the quality of the service presented to our loyal and supportive passengers, for this I sincerely apologise."