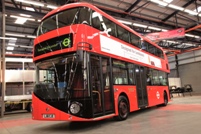 The average price of the new bus over the life of the contract will be £354,500, which TfL says includes inflation
TfL has confirmed the final costs for the purchase of 600 New Bus for London vehicles will be approximately £212.7m.
The contract, signed with Wrightbus, includes a fixed price deal for the vehicles which is intended to remove the risk and uncertainty of higher production and material costs, and inflation over the next four years. The average price of a new bus over the life of the contract will be £354,500 – which TfL says includes inflation, technical upgrades and mandatory changes including the legal requirement to fit Euro 6 engines to all new vehicles from 2014.
At today's prices the buses cost around £326,000, which TfL claims is broadly comparable with a standard hybrid double deck bus. The body attributed the price difference to the higher specification of the new bus compared to a standard hybrid, including its three-door, two-staircase design. The bus also heralds the return of the open rear platform which allows passengers to hop-on or off when a conductor is on board.
TfL intends for the buses to operate for their entire working life of at least 14 years in the capital – which it claims means a multi-million pound saving will be delivered over the useful life of the buses, even taking into account the marginally higher initial cost of the buses.
Mayor of London, Boris Johnson, said: "We will ensure these buses more than earn their keep over the next few years. By keeping them in harness in the capital for the entirety of their useful life, we will be extracting every last drop of value out of them. Aside from its Hollywood blockbuster good looks, this bus offers an unparalleled passenger experience and is helping to improve the capital's air quality."
However, the news has drawn some criticism as the announced price contradicts previous statements by Mayor Boris Johnson.
In October 2012, Lib Dem MP Caroline Pidgeon questioned the Mayor over industry speculation that the bus was "going to cost £330,000 each." In response Mr Johnson said: "The deal which we are able to do with Wrightbus will actually be considerably cheaper and better value for Londoners".
Although TfL's figures claim to include inflation, technical upgrades and mandatory changes such as Euro 6, it excludes TfL's estimated £37m bill for underwriting the cost of the second crew member needed to supervise use of the vehicle's open rear platform.