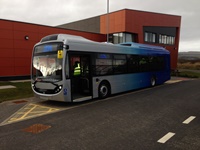 Nine operators benefit form £3.7m of funding, including First, Stagecoach and Lothian Buses
The Scottish Government has allocated £3.7m of the Scottish Green Bus Fund (GBF), to help fund 83 new buses.
Nine bus operators have been awarded funding through round five of the fund. This year's successful bidders include; First Glasgow, Wilson's of Rhu, Secure Airparks, First Scotland East, Lothian Buses, Stagecoach North Scotland, Deveron Coaches and Orkney Islands Council.
It will bring the total number of vehicles funded through the GBF to 209. The Scottish Government claims performance returns from operators confirm that buses purchased through the GBF are delivering significant fuel savings and reduced emissions.
Scottish Transport Minister Keith Brown said: "I am encouraged by the interest in this year's Scottish GBF which will contribute to another 83 low carbon emission vehicles on Scotland's roads.
"This fund is helping our bus industry invest in the latest emission reducing technology and is another clear indication of our support and commitment to the bus industry in Scotland.
"The Scottish Government is committed to public transport and to our ambitious climate change target of reducing carbon emissions by 42% by 2020."
First Glasgow confirmed that it will invest around £7.4m in 47 green vehicles, along with £1.3m from the GBF.
The order includes a £2m investment in four 'virtual electric' vehicles, which run emission-free 70% of the time, and 30% on hybrid power.
Falkirk-based manufacturer Alexander Dennis has won the contract to build the virtual electric vehicles, which will come fitted with free WiFi and leather seats as standard, and are expected to be introduced into First Glasgow's fleet in 2015.
First Glasgow will also order a further 43 green vehicles worth almost £7m.
Fiona Kerr, First Glasgow's Managing Director, said: "The order of these brand new green buses supports our determination to improve services and attract more people onto our buses. This is very welcome news for customers travelling with First Glasgow. I'm very confident they'll enjoy the benefits of smoother, greener journeys.
"The Scottish Green Bus Fund is a fantastic initiative and has helped First Glasgow and other operators invest in greener, more fuel efficient vehicles."
First Scotland East trading as First Bluebird will invest a total of £1,132,645 in five Enviro400H Flywheel hybrid buses after securing £196,000 from the GBF.
Stagecoach secured £477,000 and is to invest more than £600,000 in five electric vehicles for its bus operations in Inverness.
The new bus order is made up of five Optare Solo electric vehicles. The buses – which produce zero emissions – will be put into service in place of existing diesel vehicles on several routes around Inverness. They will go into service next year.
Five charging points will be installed at Stagecoach's Inverness depot where vehicles will be charged overnight. The Highlands and Islands Transport Partnership (HITRANS) is partly funding the installation of a further charging point at Inverness Bus Station to allow the buses to receive a top-up charge during the day.
Stagecoach North Scotland Managing Director, Steve Walker, said: "We're pleased to be ordering these new vehicles, with support from the Scottish Government's Green Bus Fund.
"Our buses play a vital role in keeping communities connected across the north of Scotland and we are committed to investing in cleaner, greener vehicles for our passengers. Sustainability is at the heart of our business – we are reducing our own carbon footprint as a company and will continue to encourage more people to try our greener, smarter bus services."
Details of Lothian Buses successful GBF applications was under embargo as CBW went to press and will be covered in next week's issue.