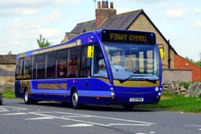 First is introducing 18 new Optare Versas to its operations in South Wales in a £2.66m investment.
The vehicles began arriving in early June and are gradually being put into the service.
Nine of the buses are for Service X2 (Porthcawl to Cardiff, via Newton, Bridgend, Cowbridge), while the remainder will go into operation on Service 63/63B (Bridgend to Porthcawl via Aberkenfig, Kenfig Hill, Pyle, North Cornelly, South Cornelly/ Mawdlam, Nottage).
Two versions of the low-weight midibus model are being supplied, split 50/50 between the 11.1m model and the new 11.7m model, seating 36 and 40 respectively.
Justin Davies, MD of First Cymru, said: "We are thrilled to take delivery of these new vehicles. They are modern, spacious, comfortable, good to drive and offer our passengers an enhanced journey experience. The buses have a number of tip-up seats at the front of them, making the overall space within quite versatile. It can either be used for seated or standing passengers, or can be used by wheelchair users or those travelling with buggies and shopping trolleys. Regardless of how the space is used though, all those customers on board have access to free WiFi while they're travelling with us.
"These new buses are a great addition to our local business, and will enable us to serve local people, connecting local communities, long into the future."
The buses feature leathertrimmed Esteban Civic V2 seats and Hanover LED destination equipment fitted to the front, side and rear.
Power is provided by the sixcylinder Euro 5 Cummins ISBe engine which delivers a generous 201 bhp (150 kW) enabling the buses to cope with the hilly terrain along the routes.
John Horn, Optare Sales Director, added: "We're proud to be a part of First's strategy to introduce stylish, comfortable and environmentally friendly vehicles into its fleet in South Wales.
"Our fully integral models are designed from the outset to be incredibly strong and durable, but with significantly reduced overall weight and class leading cost per seat. The 11.7m derivatives of our Versa range have an unladen weight of less than 7,800kg and as a result, we're sure that First will benefit from significantly enhanced fuel efficiency while their passengers enjoy exceptionally comfortable journeys.
"Drivers will also soon discover the Versa is easy to drive with excellent all-round visibility. And our Eco-Drive dashboard will help them deliver a safer and more comfortable ride for passengers as well assisting them to make their own contribution to better fuel economy, which also means lower emission levels."
The vehicles' arrival follows a £1,040,000 investment made earlier this year in eight new ADL Enviro 200s for Services 20, 20A, 21A in Swansea.