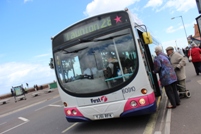 If £2 single, £3 return trial is successful a future rollout could be seen across Somerset
First introduced an experimental set of bus fares in Taunton on Sunday, July 28.
Fares have been simplified and new tickets introduced in a bid to make travel simpler and more attractive. The experiment will be used to help develop a wider review of bus fares across a much wider part of Somerset.
Alongside the introduction of a new network of Taunton town bus services, First has taken the opportunity to test the reaction of passengers to the revised fares.
The experimental fares are available across routes 1, 2, 3, 4, 5, 6 and 7, and parallel sections of other routes which run to and from Taunton.
Within the town services there is a flat £3 day return, which includes journeys where a change of buses is needed. The equivalent single fare costs £2. For the majority of existing passengers this represents a cut in the price of travel. Children between five and 15 years have seen all their fares reduced, as child fares are now fixed at half of the equivalent adult rate.
Taunton Weekly Passes have reduced to £15, and a Child Taunton Weekly Pass has been introduced at £7.50.
The current £4.30 FirstDay ticket has been replaced by the 'Anywhere to Anywhere' £3 return which includes changes of bus.
There is now no differential for peak and off-peak travel – all tickets are available at all times.
Alex Carter, Director for First in the South West, said: "We've taken on board feedback from customers about the lack of some ticket types, the complicated nature of fares and restrictions on some tickets. We're taking the opportunity to deliver a new set of fares and tickets alongside the new network of Taunton routes, which have been designed to encourage growth in bus usage.
"We'll be keeping a close watch on the results of the changes to see how they work in the town, to help deliver improvements both in Taunton and more widely in Somerset later in the year."