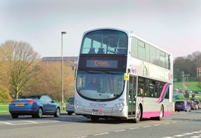 Overall revenue grew to £3,168.8m and 1,000 buses will be on order over the next two years
FirstGroup has reported overall revenue grew to £3,168.8m (up 3.2% from £3,069.9 in 2010), in its financial statement for the six months leading to September 30, 2011.
Key findings show:
Adjusted operating profit was £163m (down 4.3% from £173.5m);
Profit before tax was £127.8m (up 56.2% from £81.8m);
Adjusted basic earnings per share were 11.2p (up 6.7% from 10.5p); and
Net debt was £2,058.7m (down 6% from 2,190.8m).
FirstGroup said First Student's business recovery plan was achieving good momentum, with operating margin in the second half of the year expected to match the previous year. Revenue was 2.4% lower year on year, with operating profit £5.5m (£28m: 2010). First said its 10 largest contracts up for renewal were retained, while it won 11 contracts in the bidding season to run 330 buses.
Greyhound had a like for like passenger revenue increase of 3.7% compared to 1.9% in 2010. The division invested in 42 new vehicle and refurbished 100 existing buses, building the fleet up to 230 in total.
First UK Bus brought a revenue of £586.9m (£570.5m 2010) which was down 1.2% once adjusted for the extra week in the 2011 half year. The firm sold bus operations in Kings Lynn to Norfolk Green in April and bus subsidies in Frankfurt and Heidelberg, where 130 vehicles were run, to Marwyn European Transport for gross consideration of €5.5m.
First UK Bus plans to invest £160m in 1000 new vehicles over the next two years, including 40 hybrids. A further £27m is to be invested in new ticketing technology which will accommodate the ITSO smartcard. The operator will also be providing 500 buses as shuttles for the 2012 Olympic games.
Tim O'Toole, FirstGroup chief executive, said: "I am pleased to report overall Group trading for the first half of the current financial year is in line with our expectations. In our UK Bus operations our priorities are to manage the immediate challenges presented by a softening macroeconomic outlook and reduced funding to the industry while also taking the necessary forward looking decisions to equip the business to deliver increased growth.
"With high market positions and operations which are fundamentally strong, together with our clear focus on creating a stronger business for the future, the Group has good prospects to deliver long-term value for shareholders in a sector which is a key enabler of economic growth."
First is the UK's largest transport operator. Visit www.firstgroup.com for more information about the group