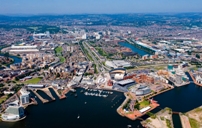 Five enterprise zones for different industries across Wales are being created by the Welsh Government.
The news comes after Jaguar Land Rover confirmed last week it is to build a factory in the West Midlands instead of Wales. Welsh ministers had been urged to act after 21 enterprise zones were announced across England.
The five new zones will be in Anglesey, Ebbw Vale, Deeside, St Athan in the Vale of Glamorgan and Cardiff. Companies investing in the sites will receive rate relief and may benefit from tax breaks to expand.
The Welsh Government said its plans were in the early stages and a final decision had yet to be made on whether to relax planning rules.
Welsh business minister Edwina Hart told BBC Wales: "This is a first stage announcement, we are having discussions with other local authorities and partners about other possible enterprise zones.
"I think what's been made clear to me over the summer from industry and all the people I've spoken to is they regard enterprise zones as a real focal point for them."
She said discussions were ongoing with the UK government over budgets for capital allowances – where companies receive tax breaks when they invest in new machinery to expand.
Cardiff council leader Rodney Berman said it would help compete with English cities and regions.
"I have been lobbying for this to happen for some time and have written to the First Minister to urge that enterprise zones are introduced as this is the only way we can be placed on a level playing field with cities such as Bristol," he added.
Conservative business spokesman Nick Ramsay AM said the announcement was "long overdue".
However, he added: "Many will fear this announcement, which contains no detail or substance to support Welsh firms, is simply a knee-jerk reaction to the loss of the £355m Jaguar Land Rover plant."