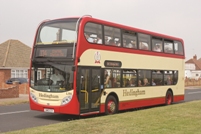 The Go-Ahead Group has announced its acquisition of Essex-based Hedingham Omnibuses.
Founded in 1960, the company is based in Colchester and operates 86 buses in North Essex and Suffolk. The business has five depots at Clacton, Hedingham, Kelvedon, Sudbury and Tollesbury. It principally operates a mix of school and local bus contracts and commercial routes.
David Brown, Group CEO, said: "I am delighted that we have acquired Hedingham Omnibuses. Go-Ahead is committed to operating high quality bus businesses in areas of growth, so this acquisition fits extremely well with that approach.
"The MacGregor family and their staff have done an excellent job building Hedingham into what it is today. We look forward to working with them and to continuing to deliver an excellent service to our customers."
The existing management team led by managing director Robert MacGregor will continue to run the business. The company name and brand will remain in place.
Mr McGregor told CBW he could not comment further at this stage.