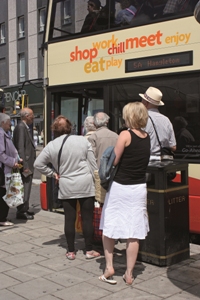 Go-Ahead's bus network has achieved 91% overall passenger satisfaction, according to research by Passenger Focus.
The independent watchdog worked with the plc to find out the views of passengers on all nine Go-Ahead's bus companies outside London. Over 6,250 passengers were surveyed – East of England-based konectbus and South Hampshire-based Bluestar performed best with 97% and 94% overall passenger satisfaction respectively. The remaining seven companies all scored at least 90%.
The research also identified areas for improvement – one of which was value for money. Half of all passengers surveyed said they would make more journeys by bus if service frequency improved.
David Sidebottom, Passenger Focus, director, said: "Go-Ahead can be proud of these results, particularly the consistency shown across its nine bus companies. However, these findings will be a boost for the company and its passengers.
"Go-Ahead is one of many bus companies, so we hope its competitors recognise the potential value of working with us and summon up the courage to find out what passengers really think of their buses."
David Brown, Go-Ahead's group CEO, said: "I am really pleased by this excellent set of results, but there is no room for complacency. Go-Ahead is committed to continuous improvement across all businesses, as evidenced by the introduction of our new smartcard ticketing technology, which makes paying for and using our services simpler and easier.
"The research makes it very clear too that once people make the decision to use the bus, the experience they have is a positive one."
Visit www.passengerfocus.org.uk or call 0300 123 0860