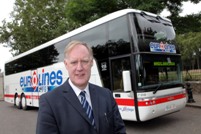 The Eurolines Organisation has reappointed John Gilbert as President for a second term at its annual conference in Ulm, Germany.
The Eurolines group is composed of 32 independent operators which together form Europe's largest regular coach network. As well as being President, John Gilbert is also managing director of Eurolines UK, part of National Express.
Eurolines members from across Europe, including representatives from Veolia Transdev and Deutsche Touring met at the two day conference in Germany earlier this month. Key items on the agenda included customer care and safety as well as the proposed multimodal journey planner for Europe. Pawel Stelmaszczyk from DG Move, who are championing the single journey planner, gave a guest presentation on the proposal and the possibilities for Eurolines.
Speaking after the conference newly re-elected John Gilbert commented on what the future holds for the Eurolines organisation during his two year term:
"We see big opportunities for the European coach network over the coming years. Today's passengers are savvy and demand value for money, easy accessibility and a reliable service. Eurolines already offers some of the competitive fares in Europe and we have a robust network of routes covering 500 destinations.
"The priority over the next two years is to focus relentlessly on our customers – not only delivering what they want, but exceeding their expectations too. We'll also work closer as an organisation to strengthen the Eurolines brand across Europe. A major part of this will be re-launching our website early next year and better utilising social media to engage new audiences.
"The Eurolines Organisation also has exciting growth plans and will be extending further into Portugal. This means Eurolines services now operate in a total of 29 countries spanning from Dublin to St Petersburg and Naples."