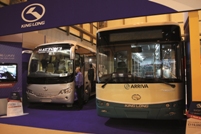 Coventry-based King Long UK is to move away from the BMC franchise following an "amicable commercial divorce" and will concentrate exclusively on sales, aftersales and support of King Long products. The former franchise holder, BMC UK plc is now in liquidation.
Paul Bicknell, director of King Long UK commented: "For some time we have been reviewing the business strategy and with the ever increasing portfolio of vehicles offered by Xiamen King Long we feel now is the correct time to sever our ties with BMC and concentrate our resources, investment and efforts into the sole promotion of King Long products, a move which has been welcomed and supported by Xiamen King Long, China. We wish BMC and its newly appointed franchisee all the best for the future.
"Throughout the past seven years we have worked closely with Xiamen King Long and played a part in the manufacturer becoming China's largest bus and coach exporter into Europe.
"We have always maintained managing both the BMC and King Long franchises has not been an issue due to there being no direct cross over in models. However, during the past twelve to eighteen months we have seen an enormous increase in the appetite of Xiamen King Long to enter into new markets, not only here in the UK but throughout Europe too. We have seen an increase from just two models up to six in just over one year, with several more on the horizon.
"With the hugely successful launch of its two citybus models in Malta, the XMQ 6900J (9M) and XMQ 6127J (12M) we are excited about the future here in the UK. As a team we have a wealth of experience in dealing within the citybus market sector and already have numerous established relationships with the majority of UK operators. We are delighted to confirm both models of citybus have arrived here in the UK and are in the process of undergoing PDI before we commence a very hectic demonstration programme starting with Arriva in the UK."
Ray McNally, sales director of King Long UK said: "We have been paving the way in anticipation of the arrival of both vehicles. Since showing the XMQ 6127J at the 2010 EuroBus Expo exhibition in Birmingham we have received countless enquiries from customers both old and new who have all been patiently awaiting the arrival of these vehicles. The King Long citybus not only offers exceptional value for money it also brings with it head-turning style and a recognised driveline which has become synonymous with the King Long product."
With the consolidation of its operations King Long in the UK claims it is better positioned to offer a full and comprehensive parts and service backup throughout the whole of the UK, with additional investment in parts stock holding here in the UK and a more direct focus on sales. It aims is to 'bring back the personal touch' through its dealership and offer a direct line of communication from client to supplier.
BMC – what next?
BMC's UK representative Sinan Ogun told CBW: "Following our amicable split with BMC UK plc, we feel BMC has a much better opportunity in the UK market. We have already received a number of applications from potential distributors and are in the process of evaluating them. We hope to make some official announcements in three to four weeks.
"We would like to assure existing customers BMC intends to stay in UK market. It is 'business as usual' and we will be strengthening our national support network. Customers requiring support or who have any warranty issues can contact us at our offices in Great Missenden on 01494 890888 or via King Long is expanding its range of buses and coaches for Europe email at [email protected]"