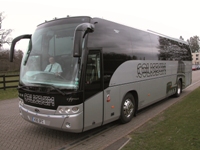 Ian Lucket, director of Lucketts Holdings Ltd, has confirmed that the Fareham-Based operator has entered negotiations to buy the shares in Coliseum Coaches from brothers and joint owners David and Kerry Pitter.
The business had been put up for sale following the brothers' decision to retire. Coliseum Coaches wished to secure transfer to a reputable company and entered negotiations with Lucketts. Finalisation of the deal is expected towards the end of March and would result in Coliseum becoming a subsidiary of Lucketts, keeping its name and operating from the same premises. David Pitter's son, Mark, is expected to become General Manager, reporting to the Lucketts board.
Ian Luckett told CBW: "What is proposed is a share purchase. There will be no change to the staff or the trading name. Coliseum is a great local business and we are looking forward to working with all the staff there and continuing the great work Kerry and David have done.
"We are confident that, with the experience Mark has gained in his 10 years with the business, he will bring some of his own ideas to the business and keep it at the forefront of the industry".
Coliseum started in trading 1949. It operates 12 coaches and last month agreed the transfer of Eassons long-standing customer base after its owners elected to retire.
Lucketts Holdings also owns Worthing Coaches and Flagship of Eastbourne.