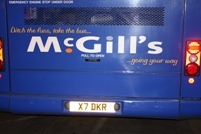 McGill's Buses is now operating the X22 route, following the decision by Scottish Travel to withdraw it.
The X22 route runs seven days a week from Greenock to Clydebank via Bishopton and is the only direct public transport link between Inverclyde and West Dunbartonshire.
The service was operated by Scottish Travel until January 31, with the assistance of a Bus Route Development Grant. McGill's took it over as a commercial route on February 1 and has offered employment to staff at Scottish Travel affected by the cessation. McGill's will operate the same timetable the company said fares will decrease by around 5p per journey.
"We are pleased to assist in saving this route for Inverclyde," commented Bert Hendry, McGill's general manager. "The X22 provides a very important public transport link to Erskine Hospital and the Golden Jubilee in Clydebank. It is also popular with passengers heading to Clydebank Shopping Centre and to the indoor and outdoor markets.
"I am pleased to confirm that the two Scottish Travel drivers of the X22 have accepted our offer to join the McGill's team. We will operate to the same timetable for passengers, and fares will go down slightly to fall in line with McGill's great value bus fares. A real boon for the route from today will be the super-low floor, easy-access buses that we will operate on every journey – making bus travel accessible to all members of the community who choose to travel on McGill's X22."