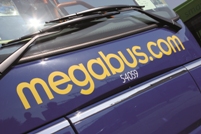 megabus.com, which has operations in the UK and North America, has plans to expand into continental Europe and establish a low-cost coach link between Paris, Boulogne, Brussels and Amsterdam.
The company is also set to provide new routes to these locations from Birmingham and Leicester, which travel through Milton Keynes, Coventry and London. The new network also offers overnight services and connections available on megabus.com from other locations in England – including Manchester, Leeds and Sheffield – as well as Scotland and Wales.
Steven Stewart, director of corporate communications, informed CBW that no third party operators are involved and the network is managed from Stagecoach's centrally-located depot in Rugby.
£2.5m has been invested in a fleet of 10 new 49-seater two-axle 12.2m-long Plaxton Panther-bodied Volvo B9Rs, which will be equipped with free Wi-Fi and toilets.
Bookings for the new services through www.megabus.com opened on March 8, with the first services running from April 16. Fares are accompanied by a 50p booking fee, start at £1 and include the cost of crossing the Channel. French and Dutch language websites trading in Euros are also set to be launched.
Sir Brian Souter, chief executive of Stagecoach Group, said: "megabus.com has already transformed inter-city travel in the UK and North America with great value fares and high-quality coaches. Our new network in Europe will bring our brand to a huge new market at a time when everyone is looking to make their money go further. Whether you are a student heading off back-packing, a family looking for a low-cost holiday, or a tourist looking to see some of Europe's great cities, fares from just £1 mean megabus. com offers unbeatable value. We are excited about taking megabus. com to the next stage and we're sure it will be as popular in France, Belgium and the Netherlands as we've seen it be elsewhere."
The new services look set to compete with National Expressowned Eurolines, which also offers competitive fares from the UK to continental Europe.