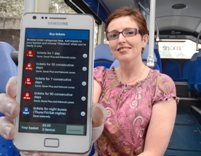 Following the success of Go North East's mobile bus ticketing scheme powered by Corethree's innovative Core Engine platform, Go South Coast company 'more' has launched mobile ticketing services for the iPhone and Android devices.
The mobile ticketing service from 'more' covers Poole, Wimbourne and Bournemouth and allows passengers to browse and buy bus tickets using their smartphone, with a one-time registration of payment details. On-screen tickets can then be used within seconds of purchase. Pre-purchased mobile tickets are discounted.
The app was launched on September 1. Nikki Honer, Commercial Manager at more from Wilts & Dorset, said: "We know from the recent launch of our key smartcard that many of our customers are happy to embrace pre purchasing tickets. With the new mobile app, your phone becomes the ticket and the system reminds the traveller how many days they have left on their ticket.
"A cash ticket purchaser could be paying up to 40% more for the same journey as someone on board who has pre-paid with a period ticket. We believe the incentive to pre-pay will encourage more people to save time and money for their commuting and leisure travel.
"The app will also hold other ticket types such as dayrider tickets which will appeal to the region's holiday makers or occasional bus users. It's thought with pensioners already using cards for their right to travel free through the government's concessionary scheme and with more paying passengers adopting the key or app systems, time spent at bus stops as people pay the driver with cash will be reduced by as much as 50%."
More's mobile service is free to download and use, with a simple sign-up which takes a matter of seconds. It is available for all major smartphones from the App Store, Google Play and via www.getcore. mobi/more.
Corethree's CEO Ashley Murdoch said: "Mobile ticketing and live services information are becoming increasingly popular with UK transport operators as they realise the benefits of operational efficiencies and provide a more enhanced customer experience. Corethree is at the cutting edge of this technology and proud to be supporting More. We will continue to provide product innovation and look forward to the next phase of enhancing these mobile services across the More network."