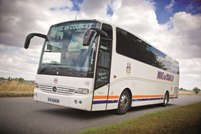 Travel de Courcey's LEZ conversion West Midland bus and coach operator Travel de Courcey has converted one of its Mercedes coaches to cope with the London Low Emission Zone stipulations next year, with the help of the Volvo Group.
Coming into force from early January next year, less than six months away, the LEZ will restrict access to the capital for noncomplying vehicles, when Euro 4 will be the minimum emission standard required.
Neville Collins, fleet engineer at Travel de Courcey explained: "Anyone operating in London after the deadline will need to be running vehicles that will pass Euro 4 emissions regulations. Accordingly, we will be upgrading a number of our vehicles over coming months and this Mercedes Touro coach has been the first."
Commenting on the value of Euro 4 beyond LEZ, Neville added: "Our local community are also benefiting from these lower emissions, and it underscores our green sustainability policy too."
The company turned to Volvo Truck and Bus Centre East Anglia, Coventry for assistance. Neville said the aftermarket team there got the conversion business because they were very competitive on price.
"As well as upgrading this vehicle from Euro 3 to Euro 4, the team at Coventry will be converting our Volvo B12s and hopefully our MAN coaches as well.
"This project reinforces Volvo's ability to not only provide an LEZ solution for all makes, but to be competitive as well," continued Neville.
The task in hand at Travel de Courcey involves the removal of exhaust and silencer peripherals and the installation of a compatible particulate trap."
Neville concluded: "We've had great service over the last few years from Volvo at Coventry and their parts team are experts at finding solutions both inside and outside the Volvo brand."