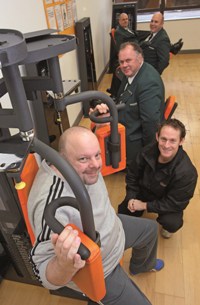 Newport Transport managing director Scott Pearson is challenging his bus drivers to get fit by following his lead in joining the gym.
The Fitness4Less gym in Newport is supporting the operator in its drive to get staff fitter by waiving all joining fees for staff at the company, which employs more than 270 people, including 170 bus drivers.
Newport Transport is also paying for personal fitness instructors to help support staff looking to get fitter or lose weight as part of the health drive.
Scott Pearson said: "Driving a bus is hard work, but we know it's not the most physically active job in the world. That is why we felt it was important we gave staff the opportunity to learn more about how to live a healthier lifestyle, and to get fit without the worry of the costs typically involved in doing so.
"Over the last 12 months we've launched a number of initiatives aimed at improving staff wellbeing including seminars to help with quitting smoking and clinics for diabetes. This latest initiative in partnership with Fitness4Less gives our staff the opportunity to learn more about healthy eating and keeping fit.
"I'm 19 stone, so overweight myself, which is why I was the first to join the gym. I'll be joining other members of staff who have already signed up for the one-toone sessions with a personal fitness instructor and am looking to lose at least three stone by the summer.
"I'm hoping lots of staff follow my lead and do the same. It doesn't matter whether you are overweight or not, going to a gym can help improve your overall fitness and wellbeing and that is important to us all."
Dave Flynn, manager at Fitness4Less, said: "We think Newport Transport has set a fantastic example for other businesses in the city to follow. Giving employees easy access to a gym means they are more likely to get fit and improve their lifestyles. The positive knock-on effects of this are endless.
"We've already seen some of the bus drivers in the gym, which is great news and we hope lots more will sign up in the coming months."