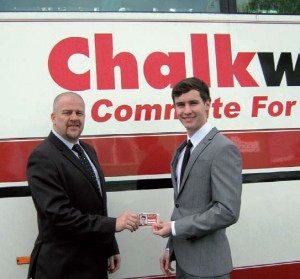 Sittingbourne-based Chalkwell has given a 'kick start' to a young man's career in London. The family-run coach firm has awarded a period of free travel to Nathan Childs, 19, of Medway, who has secured a job in Covent Garden against tough competition.
After being presented with his Chalkwell pass he thanked the company for its generosity in helping to support him at such an important time.
"It's a nice kick start to get me into my career and help me to push forward in the PR industry. I am most grateful to Chalkwell for giving me this offer," Nathan commented.
Chalkwell has previously offered free travel to deserving people in their commuter area when they have had key job interviews in London. Similarly, with sixth formers who have interviews in London, Chalkwell will give a free ticket on production of a letter of confirmation.
The company said those successful in their interviews have since gone on to become regular commuters with the Kent coach operator.