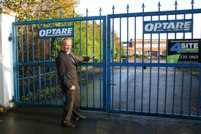 Optare has hailed a "new chapter in the history of British bus manufacturing" with production now in full swing at its brand new factory at Sherburn-in-Elmet.
The manufacturer also paid tribute to the closure of its Crossgates works in Leeds where the company has been building buses since 1985. The site's history dates back to the early 1920s when Charles H Roe started the construction of charabanc vehicles on the eight-acre site. The company was soon building both single and double-deck bodies and established itself as a supplier of high-quality buses to large and small operators in Yorkshire and the north of England.
Over the years the Roe business also built trolleybuses, articulated buses, coaches and a small number of trams. During World War II, the factory produced over 650 utility bus bodies and also manufactured other specialised vehicles to support the war effort, including trailers for use as mobile map printing units, which supported the D-Day landings.
The Roe business became part of Associated Commercial Vehicles in the late 1940s, and then part of what became the British Leyland Motor Corporation in 1961. However, a reduction in demand prompted Leyland to streamline its manufacturing facilities and the Roe plant was an unfortunate casualty. It was closed in 1984, but a group of former employees and managers saw an opportunity and revived the business as Optare in 1985.
Optare quickly established itself with early models such as the CityPacer, StarRider, Delta and Spectra and the company says such focus on style has continued in the current range of Solo, Versa and Tempo.
"Those who have worked at Crossgates over the years can take justifiable pride in their achievements," said Jim Sumner, the company's CEO.