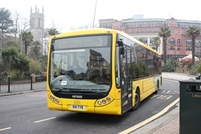 Revenue up 3.3% as expansion plan continues
RATP Group has released financial results for the half year ended June 30.
Group revenue stood at €2,674m, up 3.3% compared to the same period in 2013. Revenue generated by subsidiaries amounted to €454 million, a 12% increase. Subsidiaries now account for 17% of Group revenue.
Group net results increased by 4.8% to €198m, with subsidiaries accounting for half of the improvement.. The group said cash flow was at a record high of €527m, up by 8%. EBITDA remained consistent at €307m. Recurring EBIT contracted slightly by 4.8% to €293m
RATP said its results made it possible to maintain very high investment levels in the Paris region, which amounted to €589m for the first half of 2014:
€148m to increase transport capacity
€233m to renew and refurbish equipment
€208m to modernise infrastructure and current equipment
Patronage rose by 3.2% in the Paris region to 1.654 billion journeys. 51.1 million journeys more than the same period the year before.
RATP Dev continued its expansion drive in the first two quarters of 2014.
In the UK, the acquisition of London Sovereign (12 lines and 140 buses) means that RATP Dev now has over 1,000 buses running in Britain.
Pierre Mongin, RATP President and Chief Executive, said:"Both in Paris and internationally, RATP group continues to demonstrate its dynamic drive. Traffic has grown in the Paris region supported by the social pricing policy of the STIF transport authority and enhancements to surface networks, particularly in trams.
"The Group has continued to grow, for example in the USA with the launch of the Tucson tramway and a new sightseeing bus service in New York City, and in India with the commissioning of Mumbai's first metro line.
"Thanks to the confidence shown by its public shareholder, RATP intends to continue its drive to achieve all of the objectives in its 'Vision 2020' plan and in particular: to continue to work to improve day-to-day service for Paris region passengers, serve as a major contributor to the Grand Paris project and continue to expand internationally. We aim to achieve these goals given the committed involvement and very high professionalism of our staff."