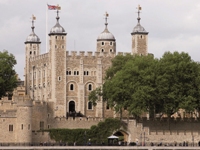 Visitors will be able to admire a new, distinctly royal attraction at the Tower of London in 2012. In Easter, the Crown Jewels, which have been held for safekeeping at the Tower for over 600 years, will be unveiled in a refreshed Jewel House to mark the Queen's diamond jubilee. The collection will be redisplayed, relit, and the stories of the significance of these unique items of royal regalia will be told.
The Tower has also started hosting military ceremonies for visitors to enjoy. Early risers can watch the Opening Ceremony at 0845hrs and see the military escort march, accompanied by the Yeoman Sergeant, to open the Tower for the day's business. At 1445hrs a Military Guard assembles for inspection and marches to the Byward Tower to collect 'the Word', the secret password for after-hours entry to the Tower.
If a group visit is pre-booked, the group will be able to view the Opening Ceremony from within the Tower. This event will ensure visitors will have a unique experience well worth the early start to the day.
The Tower hosts a special group ticket office to avoid queuing, and all coach drivers and Blue Badge holders bringing groups are admitted free of charge. A private guide for a group tour can be arranged, however only authorised Blue Badge guides are permitted to guide at the Tower. To book a guide, contact the Association of Professional Tour Guides or Guild of Registered Tourist Guides.
A groups and travel trade manual can be downloaded from the website here, or call the group booking line on 0844 482 7770 to prebook a visit