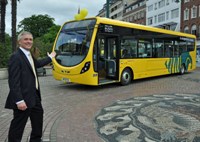 Bournemouth-based Yellow Buses has purchased eight 11.5-metre Wrightbus StreetLite Max singledeckers costing £1.1m.
The buses were officially unveiled in The Square, Bournemouth and boast leather seats and wood-effect floors, carry up to 70 passengers and will operate on the firm's route 2 between Kinson and Bournemouth, linking Castlepoint and the Royal Bournemouth Hospital.
Yellow Buses has acquired 37 new buses in the last five years costing circa £4m and the new vehicles are the latest addition to the firm's 136-strong fleet which carries over 15m passengers a year.
MD Derek Lott said: "Serving a large number of passengers every day means our vehicles need to offer a high quality standard. I'm confident these new additions will be a big hit with our passengers and drivers alike."