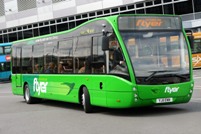 The high cost of fuel is driving more motorists out of their cars and onto public transport, according to research carried out by trent barton.
As part of a series of customer satisfaction surveys, trent barton found around three quarters of people questioned said travelling by bus was now cheaper than taking the car.
Alex Hornby, commercial director at trent barton, said: "On some routes, 78% of customers said they had saved money by taking the bus rather than travelling by car and across the entire network around 70% said bus fares offered good value for money."
Alex continued: "85% of spondon flyer users into Derby said the bus was just as quick, if not quicker, than taking the car, while 70% of customers on the sixes and the allestree agreed fares were good value and the bus was cheaper."
The research also revealed the popularity of a recently introduced express service connecting Ripley and Heanor with Nottingham city centre. In the run-up to Christmas, the firm's rapid 1 service, saw more than 8,000 passenger journeys.
The survey revealed 80% of customers are visiting Nottingham more often thanks to rapid 1 and 17% said they had travelled into the city by car until the service was introduced.