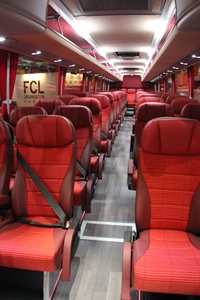 Nottingham City Council is planning to recategorise Trent Barton's Red Arrow coach service as a 'premium service' from April 1, 2016.
If these plans are approved, concessionary passes will no longer be valid for passengers boarding the high-profile service in Nottingham and at Nottingham's Queen's Medical Centre hospital.
The council is expected to decide in coming weeks whether to exclude Red Arrow from the routes holders of an English National Concessionary Travel Card can travel on for free. This, says the council, is due to the service's limited stops, express journey times, large storage, dedicated bike racks and spacious seats with tables.
Nottingham City Council's decision means pass holders will still have access to free travel on Red Arrow when boarding at Derby to travel to Nottingham, but will have to pay when travelling in the other direction from Nottingham. Derby City Council will continue to support concessionary passes on the coach service. Alternatively, concessionary pass holders can use the Indigo and i4 services which will remain free. Trent Barton has urged those who are unhappy about the plans to contact local councillors and MPs.