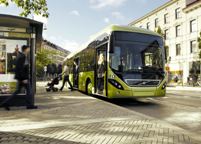 GERMANY The central theme for Volvo's exhibits at this year's IAA exhibition is 'buses and associated services which save fuel, money and the environment', with the main focus on the company's 7900 hybrid bus which is claimed to reduce fuel consumption by up to 37%.
Since serial production of hybrids commenced in 2010, Volvo has sold more than 760 hybrid buses to 20 countries.
The body of the Volvo 7900 Hybrid is built largely of aluminium and GRP for low weight to promote low fuel consumption while increasing passenger carrying capacity. The parallel hybrid technology uses a smaller five-cylinder diesel engine and an electric motor. Regeneration of brake energy and the engine stop system, which cuts the engine when the vehicle is at a bus stop, and throughout the pulling away/ acceleration phase, are the key elements to its design. It also means it can travel emission free over parts of its route and with reduced noise during electric-only running.
Volvo is also introducing its new 8.0-litre Euro 6 diesel engine, the MD 8. It is the first in a new line of Euro 6 engines and is available in three different variants, from 280 up to 350 hp. The middle 320 hp variant will also be compatible with biodiesel. The new engines combine SCR (Selective Catalytic Reduction) with EGR (Exhaust Gas Recirculation) technology.
In addition, a completely new range of coach seats is being exhibited which feature a new design, higher comfort and lower weight. The weight saving is around 120kg which contributes to lower fuel consumption. The seats are manufactured in four different designs for Volvo 9500, 9700 and 9900 coaches, as well as the Volvo 8900 intercity buses.
Volvo's recently announced telematic services will also be on display. The system is designed to allow operators to reduce fuel consumption and increase availability of their vehicles. Volvo vehicle exhibits include the 7900 Hybrid, 9900 (tri-axle) coach, 9500 (two-axle) coach and the 8900 (intercity bus).