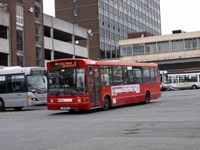 Arriva Midlands subsidiary Wardle Transport merged its operations with the Stoke operations of D&G Coach and Bus in a takeover completed on Sunday August 7.
D&G's name in Staffordshire has been dropped and replaced by that of Wardle Transport, which came under the wing of Arriva late last year.
D&G employed 62 members of staff and 33 buses in Staffordshire, which have been merged with Wardle Transport. The combined business will have 182 employees and 100 vehicles based at the Adderley Green site.
D&G will continue to operate as a separate business from its base in Crewe,Cheshirewhich is not affected by the sale of its Staffordshire operations to Arriva.
"The merger of the two businesses took place on Sunday 7 August and I thank our dedicated team for making a smooth transition from the original Wardle Transport depot to Adderley Green possible," said Bob Hind, regional managing director for Arriva Midlands. "We will be investing in the site which will see the engineering facilities extended to cater for the expanding fleet, we are very much looking forward to working with new contractors to grow the business."
Wardle Transport operates its own fleet of buses and minibuses, and provides services to schools, colleges, local businesses, and charities.