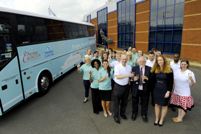 New coach carries Fred Olsendesigned livery and is designated on Fred Olsen transfers for its regional UK departures
Fred Olsen Cruise Lines welcomed the latest addition to the Woods Travel fleet to its Ipswich Headquarters on April 25. The new 53-seat, DAF-powered Bova Futura has been emblazoned with the Fred Olsen's 'Bringing the world closer to you' branding.
Bognor Regis-based Woods Travel, which was awarded Coach Operator of the Year at the UK Coach Awards this year, has designated the vehicle for use on Fred Olsen transfers for its regional UK departures, as well as on Woods' exclusive 'Coach and Cruise' holidays through Sussex Cruise Club.
The new coach specification includes:
Double-glazed tinted windows with curtains;
Air conditioning;
Fully carpeting throughout;
Central sunken toilet/washroom;
Hot & cold drinks dispenser and fridge;
Off-side Continental exit door; and
Individual reading lights and air vents
The graphics were designed by Fred Olsen and manufactured by Delta Signs of Angmering, West Sussex.
Nathan Philpot, Sales and Marketing Director for Fred Olsen, said: "It is always rewarding for us when our loyal travel trade partners get behind our cruise promotions and we are amazed at the lengths that Woods Travel has gone to in publicising our 'Bringing the world closer to you' message. This is one of the largest-ever advertisements for Fred Olsen and thanks to Woods for this innovative and creative design, which is sure to get both our brands noticed."
Roger Elsmere, owner of Woods Travel, said: "We have had a close working relationship with Fred Olsen for many years and are always trying to find innovative ways to increase our cruise sales. We always find the Fred Olsen team willing to work with us and open to new ideas, so were thrilled when they agreed to this promotion.
"We are proud to have this new coach as part of our ever-growing fleet of luxury coaches and will be using it for our Fred Olsen special departures and look forward to many more coach and cruise holidays."
One of Woods' 'Coach and Cruise' holidays, which is currently on the road, is a tour to 'Constable Country'. This is a joint undertaking with Fred Olsen and takes guests up the East Coast from Southampton to Fred Olsen's new turnaround port of Harwich, in Essex, on board 'Black Watch'. Guests can enjoy two ports en route; St. Peter Port, in Guernsey, and Boulogne-sur-Mer, in France.
Upon arrival in Harwich, the service provides commentary from a local guide, as it travels through picturesque villages, farmlands and woodlands – immortalised by John Constable in his paintings over 200 years ago. Guests are then taken to the Crown Plaza Resort Five Lakes Hotel, near Colchester in Essex, for a two-night stay, which also includes a visit to the nearby Tiptree Jam Visitor Centre, followed by a trip to Britain's oldest recorded town, Colchester.
On the journey back to the South Coast, the coach will visit Royal Tunbridge Wells, before Woods taxis return guests to their homes.