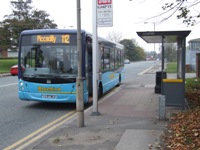 Consolidation has taken place in the Greater Manchester bus market after the stagecarriage operations of Hayton's Travel were acquired by fellow independent Bluebird Bus & Coach.
Mike Dunstan, owner of Middleton-based Bluebird Bus & Coach told CBW: "We've taken over the bus operations of Haytons Travel. All Transport for Greater Manchester (TfGM) contracts have been reassigned to us.
"It's the latest example of how this company is going from strength to strength. It clearly demonstrates Bluebird is a major player in the bus market of both Manchester City and Greater Manchester as a whole.
"I would also like to thank the staff at TfGM. I'm sure this will assist Haytons to further develop its quality coaching business."
Bluebird has acquired two routes – the 44 to Manchester Airport and the 196 Didsbury Circular service. While no members of staff are involved in the deal, Bluebird has acquired a pair of Mini Pointer Darts from Haytons and is now back up to 49 buses.
Recent additions to the fleet include three ex Go-Ahead London Darts and four ex Hong Kong Volvo B6s, which were acquired via Stafford Bus Centre for peak workings. However, Mr. Dunstan was keen to stress his company is "still buying new vehicles". An Optare Solo SR has joined the fleet this year.
Barry Hayton told CBW: "We've decided to concentrate on our core coaching business, which includes National Express. We feel buses are for bus companies and coaches are for coach operators. We've been running buses for four years. However, our decision doesn't mean we're ruling out returning to stagecarriage work at some point in the future if we felt the conditions were right. I would like to wish Mike Dustan well for the future."
Founded in 1984, Haytons operates a fleet of 32 vehicles.