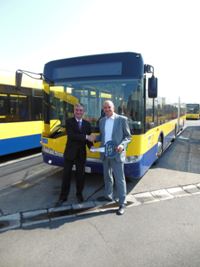 Serbia Following an order in March for 200 Urbino 18 articulated lowfloor citybuses from municipal transport operator GSP Belgrade, the first 10 articulated Urbinos were officially handed over in the first week of August.
The intitial batch of 10 buses is to be followed by a further 45 additional units in August, 45 units in September, 50 units in October and a final delivery of 50 units in November. All 200 will be in operation by the end of 2013.
Before deliveries to Belgrade started, Solaris trained GSP's drivers and technicians. Solaris will also support GSP in servicing and maintenance for two years after delivery. Solaris has also established a spare parts stock in Belgrade to guarantee quick and efficient service to the customer.
"We are very satisfied about the quality of the buses delivered and the training provided to our employees," said Milan Sofronic, GSP Technical Director. "Within the next few days, passengers will experience the comfort of travelling by our new buses."
Solaris gained the order through a competitive tender process. The €64 million contract was supported from EBRD funds.
All 200 Urbino 18s for Belgrade offer a low floor throughout and are fully air-conditioned. They are powered by Euro 5 diesel engines and each has a CCTV monitoring system with seven cameras.