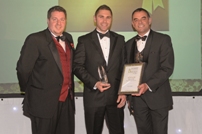 Grey's of Ely won an East Cambridgeshire Business award for 2011 on Friday, October 28.
Grey's was a finalist in the medium business of the year category. Nine judges from various business sectors chose the winners, sponsored, by Archer and Archer Solicitors. They said: "Grey's of Ely is an excellent ambassador for Ely and for successful Ely businesses. A long-standing local business, it has successfully transferred through the generations. By diversifying it has started to broaden its business base, improved its marketing and updated it image."
Richard Grey, MD of Grey's, said: "It's an excellent culmination to the year. We are one of very few businesses to carry the city's name and we are very proud to do so."
The event was held at Ely Cathedral, and attended by various local businesses, from new entrepreneurs to well established companies.